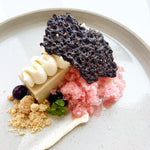 This fall, we've created two items for hanchic's dessert menu.  JASMINE CREMEUX jasmine cremeux, omija granita, omija pickled blueberries, buttered crumble, black pepper tuile   BANANA MILK ROLL CAKE banana milk cake, banana milk ganache, banana milk ice cream, buttered crumble   Get these at hanchic while they last!
---
on february 27th, 2021, we will be officially kicking off our move to los angeles with a collab with LA's resident modern tea house, steep la.   after meeting the steep team a few weeks ago, we knew our friendship was meant to be. we're so happy to be working with them for a one day pop-up @ steep la's tea house in chinatown!  we've created two fluffy-as-can-be donuts: a brûlée'd salted egg yolk one and a "pineapple cake" one with a pineapple cream and house made jam. these will be paired with steep la's cold brew oolong tea.  this collab can...
---
creating new puff flavors has always been a very fulfilling process. since our inception, we've created 20 flavors and hope to create more and more in the next few years. here is everything we've made so far, as well as some of our favs. strawberry jasmine: jasmine ganache, strawberry jam, white chocolate crisps, fresh strawberry slice pineapple cake: pineapple ganache, pineapple jam, candied pineapple hojicha: hojicha ganache coffee hazelnut: vietnamese coffee ganache with hazelnut praline, candied hazelnuts ferrero: hazelnut ganache, nutella, gold leaf banana milk: banana ganache, bruleed banana slice black sesame: black sesame ganache, black sesame seeds earl grey lavender: earl...